The easiest way is to buy our KIT in the store, just add it to cart.
But often the order requires additional approvals and refinements.



All discussions and agreements of your order we will carry on with the help of Tickets.
This action is available only for registered users!
All your Dialogues will be stored in My Tickets section in your profile. Each dialogue will be given one of the following statuses:
«Open» – latest discussion;
«Resolved» – executed and closed the dialogue;
«Won't Fix» – if the order is canceled;
«Duplicate» – repeated dialogue on the same topic;
«Mistaken» – improperly created or abandoned topic.
You can leave messages even in closed Tickets.
To start a dialogue use the form "Submit new issue"
Afte the new form opens, check the accuracy of your registration data.
We will call you upon urgent questions using the phone number provided, and the order will be sent to the address provided.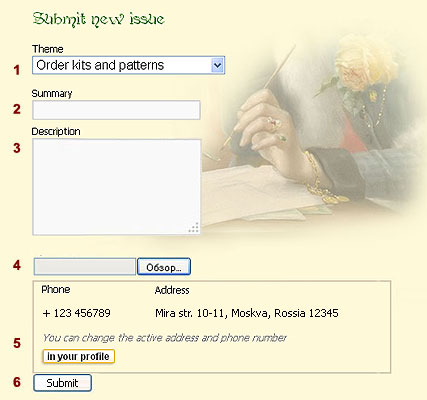 Please fill in required fields
1. Choose a theme of our dialogue from the dropdown list "Theme"..
2. Enter the name of the specific topic of the dialogue.
3. Briefly describe the contents, the essence of your question.
4. Illustrate your question by adding pictures in Attachment. If you need to add multiple files, attach them a .zip archive.
5. Check your address and telephone number, you can change them in your profile.
6. Press the Submit button.
Then opens a page with the dialog where you can continue a private chat with the administrator (executor of your order).
We will get back to you as soon as possible, and your email address will be notified about the answer.
Dialogue with the administrator will continue in "My Tickets" section till the complete explanation of all issues and final order.
Start the dialogue
And if you're not ready to buy, but you've got questions, we are happy to answer you without registration
Ask a QUESTION without registration